Dear visitor,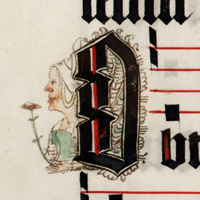 I am extremely happy that the Flemish Community has been able to acquire the Tsgrooten Antiphonary, this precious and exceptional piece of musical heritage, and that this old choir book has not left our country.
I would like to convey my deepest appreciation to the team of the Ghent University Library, who have managed to digitize the 337 page manuscript in less than a week. A dashing exploit, indeed! Thanks to the Book Tower team's dynamism each and everyone will, from now on, be able to enjoy the gorgeous pages and the Gregorian chant that was so appropriately performed by the Psallentes Ensemble.
I hope you'll enjoy it!
Watch online
Download the files
Bert Anciaux, Flemish Minister of Culture, Youth, Sports and Brussels Affairs